http://i932.photobucket.com/albums/ad165/bjurado85/No%20Remission/Record%20Release%20-%20black%20and%20white/DSC_0103b1.jpg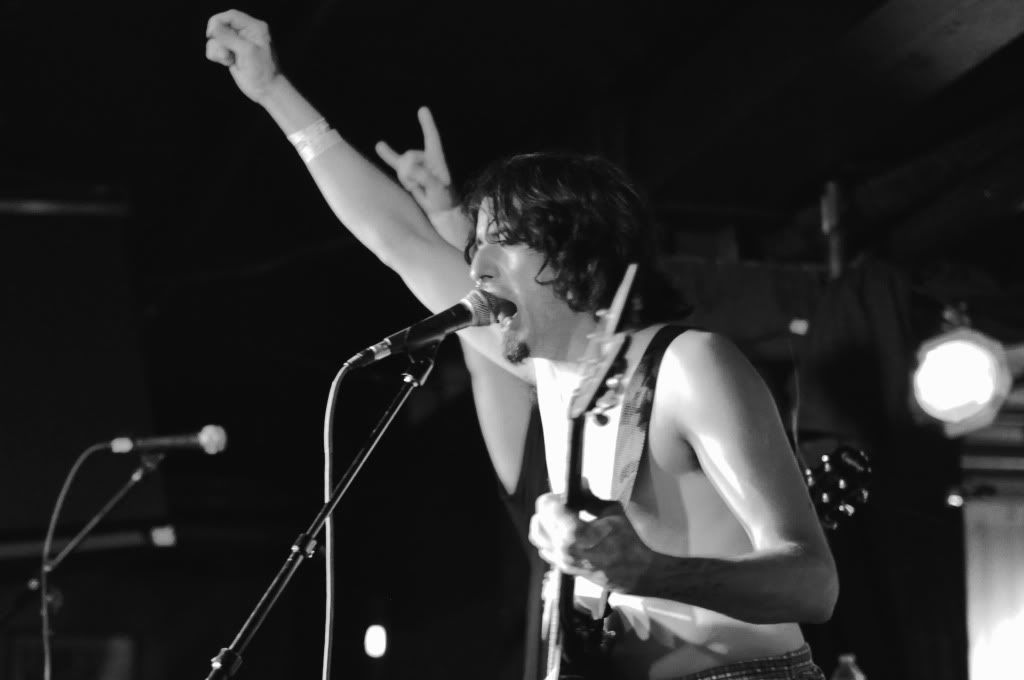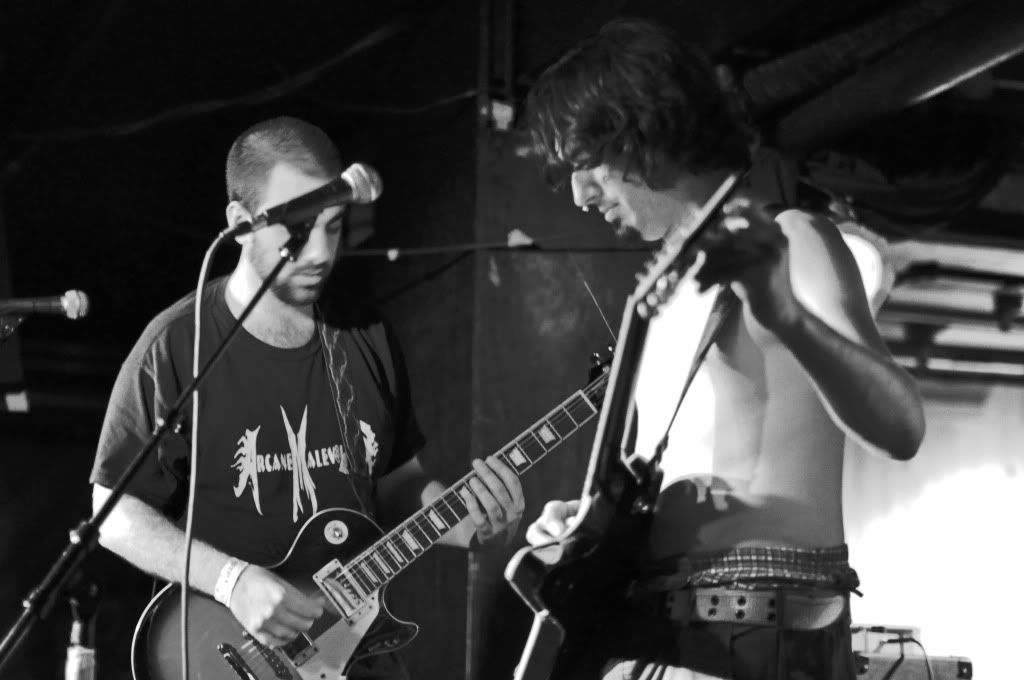 Pits, pits, pits. This show was Pit Central from the get-go despite the higher than normal amount of ladies for a metal audience. Webster Hall went pretty smoothly.
Up first, Left in Ruins (LIR) set the tone of the night with an immediate pit breaking out. With three guitarists, bass, percussion and vocals, LIR's sound was down right huge. Tight build ups and layered harmonies lent well to pit activity, the crowd was really into it. Each of their songs had its own sound as well as each musician. The guitarists traded off soloing within songs, each with their own respective approach, to create a cohesive musical statement. Solos ranged from liquid smoothness to gritty thrash; tied together with counter melodies traded off between guitars and bass; all held together with a strong percussive foundation. LIR showed off a very textured writing approach with a plethora of stylistic variation.
Speaking of variety, Arcane Malevolence put on a set to remember. I had heard about this bombastic front man before but had yet to see a performance for myself. I caught myself having a hard time reviewing the set due to bouts of giggling at his mental-patient-like antics. I found myself pleasantly surprised at the eclectic vocals coupled with the controlled chaotic feel of the musical foundation. Arcane Malevolence's line up consisted of one singer, one guitarist, one bass player and a drummer. Their sound was surprisingly strong, especially after LIR's triple-guitarist onslaught. The bassist did a phenomenal job of tying together all of the elements of Arcane Malevolence's style. It's hard to categorize their approach accurately besides metal unless you want to create one of those sub-sub-sub-you hopefully get the picture by now-sub-genres. The members of Arcane Malevolence frantically finesse their way through many a metal sub-genre.
Up next, thickening up the sound again with two guitars, bass, percussion and vocals, Alekhine's Gun really riled up the crowd with their female vocalist. Even through an unfortunate tuning event which caused them to edit their set, she was able to keep the crowd occupied and into the show. But no worries, just a small bump on the road to Alekhine's Gun really rocking out with some brutal material. If anything, the delay seemed to make the audience even thirstier for more metal and the testosterone infused pit went insane as soon as the band kicked back in. You could close your eyes, which I wouldn't recommend in that pit, and not be able to tell the singer was a lady. By the time they were done the pit filled 3/4ths of the floor.
And for the finale, showcasing their new album "Through Blackened Skies", No Remission put on a flawless performance full of head banging goodness. The guys were beyond ready to appease the crowds hunger for metal and you could hear it in their playing and see it through their showmanship. With a line up consisting of vocals, two guitars, bass and drums, No Remission expertly plowed through their set proving that the NY metal scene is not only alive, but thriving. It was especially interesting to see a slow motion pit during "The Hunter" grow into utter pit devastation as the song got heavier and time signatures changed. Tight, melodic, driven and thrashy as always, I could hear the full instrumentation throughout No Remission's deluge without straining my ears. Each and every riff was executed cleanly. The performance was on par with the sound of a professional recording thanks to the very talented sound lady. She did a truly marvelous job bringing all the timbres of metal together without making metal soup. By the time No Remission got to "Signal Loss", I wanted to jump into the sound cage with her for protection. The pit covered pretty much the entire floor minus the merch tables.
All of the bands in the line up for No Remission's release party complemented each other really well. I think a tour with Left in Ruins, Arcane Malevolence, Alekhine's Gun and No Remission would be received really well. It was amazingly refreshing to go to a metal show where all the bands didn't sound the same. Thanks, guys! This show was a perfect example of the variety that can be found in the NY metal scene if you know where to look.
Reviewed by Laurcifer
Photos By Bruce Jurado