** 'Change of Seasons' Break Out Single Off Their Self-Titled Debut Album **
'These five Torontonians blast crowds with shiny, happy pop, but have no qualms about working the word "motherfucker" into a chorus' -Chartattack
'Charged with dueling guitars, foot stomping grooves, soulful harmony singing and a healthy dose of hand claps, they want to make you dance.[…] The kids have got moxie!
'- CBC Radio 3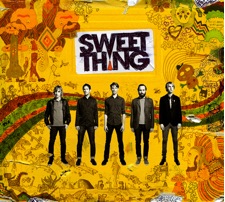 New York, NY
– With a Canadian Radio Music Award nomination for their song,
"Change of Seasons,"
and brand spankin' new single,
"Lazy Susan,"
that's climbing the top of the charts,
Sweet Thing
will be wrapping up their highly buzzed Canadian tour with a stop off in the U.S. The band will be showcasing their rockin' indie pop stylings on March 14
th
at Pianos in NYC and all throughout SXSW in Austin, TX.
Hailing from Toronto, Sweet Thing was formed three years ago by Owen Carrier, the lead singer, and Alex Winter, the lead guitarist. From there, they gathered the talents Nick Rose, Tyler Kyte, and Morgan Waters, ultimately creating the five-piece band, Sweet Thing. With the dueling guitar harmonies of Alex Winter and Nick Rose, Morgan Waters laying down the bass line, and Tyler Kyte driving the beat, Owen Carrier's voice carries angelically across the stage.
With this tight-knit group, Sweet Thing has become known for their catchy and cleverly written songs, amazing live performances, entertaining personalities, and their high-profile fans (including Emma Stone and George Stroumboulopoulus). Since the release of their self-titled debut album and with their song, "Change of Seasons," being featured in the film, Easy A, Sweet Thing has established strong excitement for their tour in Canada as well as stateside. The band has already lined up a series of high profile gigs in NYC and Austin for SXSW. The New York show is schedule for March 14th at Pianos and later that week, Sweet Thing, will be making their way down to Texas for SXSW to play shows starting March 18th.
February 22nd – Lethbridge, Alberta @ Bully's Event Centre
February 23rd – Red Deer, Alberta @ Lotus Club
February 25th – Vancouver, British Columbia @ Vogue Theatre
February 26th – Vancouver, British Columbia @ Vogue Theatre
February 28th – Banff, Alberta @ Wild Bills
March 2nd – Edmonton, Alberta @ Edmonton Events Center
March 3rd – Calgary, Alberta @ MacEwan Hall
March 4th – Saskatoon, Saskatchewan @ Odeon Events Centre
March 5th – Winnipeg, Manitoba @ Burton Cummings Theatre
March 7th – Sault Ste Marie, Ontario @ Kiwanis Community Theatre Centre
March 8th – North Bay, Ontario @ Capitol Centre Theatre
March 9th – Kingston, Ontario @ Ale House
March 10th – Ottawa, Ontario @ Bronson Centre
March 11th – Montreal, Quebec @ Metropolis
March 12th – Toronto, Ontario @ Massey Hall
March 14th – New York, NY @ Pianos
March 18th – Austin, TX @ SXSW Canada House
March 18th – Austin, TX @ SXSW Harris Radio Showcase at DMI House- 6pm