"We push them like crack dealers and we should and if you haven't checked them out live yet... well you should."
Rock NYC
"Taking over the world, one sweaty rock circus at a time!"
Mergent Music Magazine
"To put it simply, they are a walking, breathing and screaming cartoon: loud, colorful and full of enough energy to put nearly any other band to shame."
Radio Exile
SHINOBI NINJA (www.shinobininja.com) – The party rocking beasts from Brooklyn NY announce a string of East Coast tour dates plus five shows at SXSW. Onstage and online, Shinobi Ninja have built themselves a devoted following, garnering much-deserved attention from the music world. With their must-see live gigs, their party-in-a-box debut EP, interactive video game and forthcoming full length album, Shinobi Ninja are always going the extra mile to make you part of the excitement. You'll find the band's irresistible funky rock hooks, energetic performance style and fun loving attitude will make you want to join the revolution.
EAST COAST TOUR DATES
March 6th @ Copperfield's - Boston, MA
March 7th @ The Stone Pony - Asbury Park, NJ
March 8th @ North Star Bar - Philadelphia, PA
March 9th @ Liv Nightclub - Washington, DC
March 10th @ Fat Tuesdays - Fairfax VA w/ Mambo Sauce
March 11th @ Lenny's Bar - Atlanta GA w/ The 54
SXSW – AUSTIN, TEXAS
March 14th @ The Purevolume House
March 15th @ Beauty Bar
March 16th + 17th @ The Rusty Spurs - Music Tech Mashup
March 19th @ Darwin's Pub - Red Gorilla Music Festival
More information on the Facebook event page here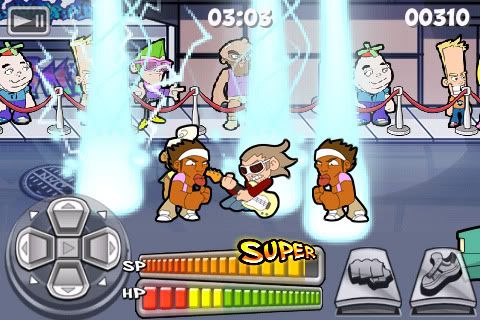 View the "Shinobi Ninja Attacks" game trailer here
Download the "Shinobi Ninja Attacks" lite version here
Watch "Brooklyn to Babylon" (official music video) here
SHINOBI NINJA are the super group for the 21st century, composed of six colorful, vibrant New York City musicians and performers from different corners of the music world. With their debut EP Brooklyn to Babylon, a dangerously addictive video for the single to their title track "Brooklyn to Babylon" directed by Evan Savitt (Lady Gaga, Saint Motel), and their own revolutionary video game, Shinobi Ninja Attacks, now available in the iPhone App Store. Shinobi Ninja will jumpstart the party, wherever you are!
FOLLOW SHINOBI NINJA ON TWITTER: @ShinobiNinja